在此先說...這裡有一部分在下拿來交英文作業的地方,若不想看請自動忽略...
此外...因最近要期中考,ACG相關情報和評論更新速度將減慢,期中考後將恢復....敬請期待...
-----------------------分隔線---------------------------
因為我從小就很喜歡龍猫,所以想打一篇相關介紹
懷念一下童年..
應同學要求...再補上一張....(獵奇版...11/11...作為PS3 40G發售日+PS3一週年紀念吧)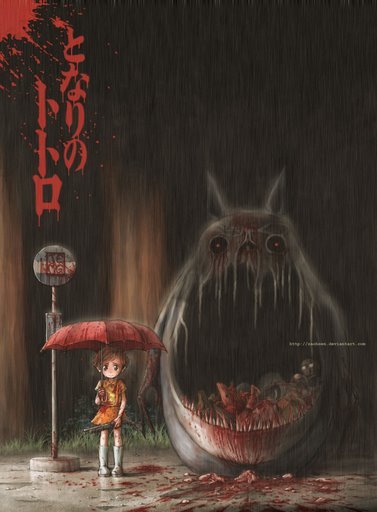 My Neighbor Totoro was released by Studio Ghibli(吉卜利...是製作公司) as a double feature with Isao Takahata's Grave of the Fireflies in August 1988. There are two theories for this: one was that Totoro would not be successful. Another theory is that Grave of the Fireflies was believed to be too depressing for audiences by itself, and thus needed a lighter animation to accompany it. The late Yoshifumi Kondo provided character designs for both films.
Totoro is a forest spirit that little Mei, and later her older sister Satsuki, encounter in a giant camphor tree near their new home in the countryside. Although their father, a university professor, is with them when they move, their mother is in the hospital, recovering from some unnamed illness. When Mei hears that her mother's condition may be worsening, she resolves to visit her all by herself. When everyone realizes she's missing, only Totoro knows how to find her!
Totoro -- a giant furry thing ,a mixture of several animals: tanukis (the Japanese version of raccoons), cats (the pointed ears and the facial expressions), and owls (the chevron markings on their chests and the "ooo"-ing sound they make with their ocarinas at night).
Mei - a young japanese girl wears beautiful orange hair, with braids hanging fairly left and right ,cuddly round face.
Satsuki - Mei's older sister,She had black short hair,tall and skinny ,boy like personality.
Cat bus(很多隻腳的猫巴士): bus which looks like an orange cat (or a cat who works as a bus). the cat bus got mice to be his head light and help out to change the destination sign on cat bus's forehead. and he's got six legs in order to run faster than wind.
Dust bunnies(像小炭的東西) -- those are little black fuzzy things, about the size of a baseball. In Japanese, they were called "Makkuro Kurosuke" (a literal translation would be "Pitch-black Blackie"
This animation has the value to buy its DVD.
Of course,I have it.It makes me think about my childhood.We are so innocent at that time.It dissolves our frozen hearts in this world.It's the best fairy tales I have ever seen.
スポンサーサイト
在此先說...這裡有一部分在下拿來交英文作業的地方,若不想看請自動忽略...
此外...因最近要期中考,ACG相關情報和評論更新速度將減慢,期中考後將恢復....敬請期待...
-----------------------分隔線---------------------------
因之前跟旅行團去過舊金山...覺得景色很美...
所以自由發揮第一篇打算用手邊相關簡介寫舊金山的相關介紹
San Francisco is located on the west coast of the U.S. at the tip of the San Francisco eninsula and includes significant stretches of the Pacific Ocean and San Francisco Bay within its boundaries. Several islands are part of the city.
San Francisco is famous for its hills. There are more than 50 hills within city limits.
Some neighborhoods are named after the hill on which they are situated, including Nob Hill, Pacific Heights, Russian Hill, Potrero Hill, and Telegraph Hill.
A quotation incorrectly attributed to Mark Twain says, "The coldest winter I ever spent was a summer in San Francisco.".San Francisco's climate is characteristic of California's Mediterranean climate with mild, wet winters and dry summers.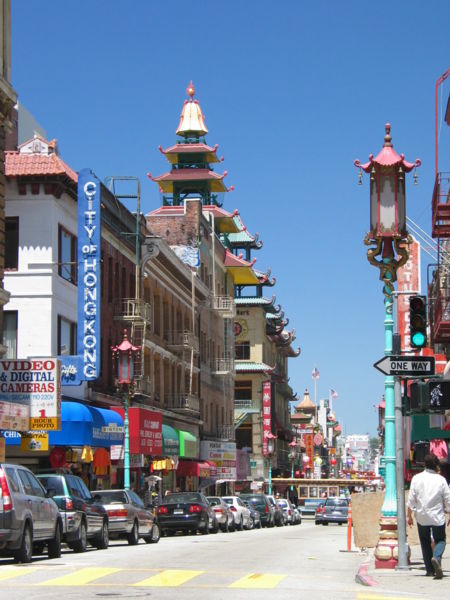 The historic center of San Francisco is the northeast quadrant of the city bordered by Market Street to the south. It is here that the Financial District is centered, with Union Square, the principal shopping and hotel district, nearby. Cable cars carry residents and tourists alike up steep inclines to the summit of Nob Hill, once the home of the city's business tycoons, and down to Fisherman's Wharf, a tourist area featuring Dungeness crab from a still-active fishing industry.
In San Francisco,you can't miss cable cars there.
You will have a good time there.I promise.
在此先說...這裡有一部分在下拿來交英文作業的地方,若不想看請自動忽略...
此外...因最近要期中考,ACG相關情報和評論更新速度將減慢,期中考後將恢復....敬請期待...
-----------------------分隔線---------------------------
秒速五釐米 - 5cm per min.
"Do you know how fast do the petals of cherry blossoms fall ?"
"It seems at 5cm per minute."
This movie was made by 新海誠 who is famous for making animations.The music was made by 天門 who is also famous.
新海誠 is good at drawing background of the animation.
The movie was distributed into three parts.Every part is about thirty minutes except the third part.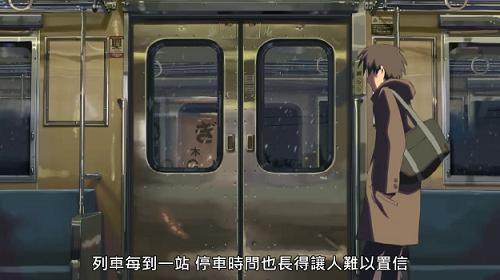 The first part describes how the hero and the heroine meets each other at elementary school.When they are junior high,they need to move to different places.One day,the hero want to see the heroine to procure their promise.
The second part describes that the hero move to 鹿兒島 when he was senior high.He meets another girl there.That girl likes him,but he assumes that she is just his best friend there.They live in this world just like cosmonauts in the space.Because they don't know where they will being in the future...
The third part is just 14 minutes.It describes the world when the hero was a grownup.
One day,when he passed away the railway,he sees a woman.He thinks that she must be the heroine,so he decides to turn back to see whether she is the person or not.
The hero need to work everyday just like an usual person.He is tired the life he live.
They miss each other too many times.Can they have a reunion ?
The hero wishes that she still wait for him after the train.she must be the girl staid with him when they were at elementary school.
There is no person waiting for him.He leave the place in great disappointment.But it is reality.There isn't a person waiting for you all the time.you should to wake up.This is what 新海誠 wants us to know.
I commend this movie to everyone.
I like this movie very much.
You must buy this DVD when it sells in Taiwan.
在此先說...這裡有一部分在下拿來交英文作業的地方,若不想看請自動忽略...
此外...因最近要期中考,ACG相關情報和評論更新速度將減慢,期中考後將恢復....敬請期待...
-----------------------分隔線---------------------------
法國巴黎
Paris
Paris is the capital and largest city of France.It is a leading global cultural, business and political center and is renowned for its defining neoclassical(新古典主義) architecture as well as its unrivaled influence in fashion and the arts.It is widely regarded as one of the world's major global cities. Nicknamed "the City of Light" (la Ville Lumière) since the 19th century, Paris has a reputation as a "romantic" city.
The most recognizable symbol of Paris is the 324 meter (1,063 ft) Eiffel Tower on the banks of the Seine.
The ultimate image of Paris has to be La Tour Eiffel. Its fireworks for new year rather eclipsed London's millennium wall of fire. It dominates the city.If you are foolhardy enough to drive into Paris, remember that traffic entering the Arc de Triomphe has priority over anything already in the process of hurtling round it. The Arc that Napoléon intended as a celebration of his victories was not finished when the Battle of Waterloo brought his downfall. It now stands guard over the remains of an unknown solider from World War I, with the eternal flame burning under it.
By the way,Paris has lots of beautiful place.I wish that I can go there in the future.